The Tobacco Product Waste Reduction Project works with local communities and governments in San Diego County to address tobacco product waste and help protect California's neighborhoods and the environment.
---
In the Press:
Researchers from SDSU's Tobacco Product Waste Reduction Project are collecting and mapping waste in 8 cities in San Diego County. Community members, including elected officials, are welcome to participate in the project, which aims to solve the problem of tobacco product waste that litters our streets, sidewalks, parks, and beaches. On Saturday, March 5, the SDSU team was joined by Chula Vista's Mayor, Mary Salas, and staff member Karla Mendez, along with volunteers D'Rone Rivers and Ilwad Abdi. Read more by clicking on the article below.
Have you ever noticed cigarette butts while walking through a parking lot, along the sidewalks, in parks, or at the beach? Cigarette butts are the most common form of tobacco product waste and they are everywhere. Even worse, cigarette butts are only one type of tobacco product waste! Other tobacco products, such as cigars, cigarillos, and smokeless tobacco create hazardous trash as well as e-cigarettes or vapes. Pods, pens, cartridges, and batteries contribute to the litter along with smoked and edible cannabis.
This waste is not just unsightly, it contains chemicals that are harmful to people, pets, and the environment. The Tobacco Product Waste Reduction Project works with communities to eliminate this toxic waste from their streets, sidewalks, parks, and beaches.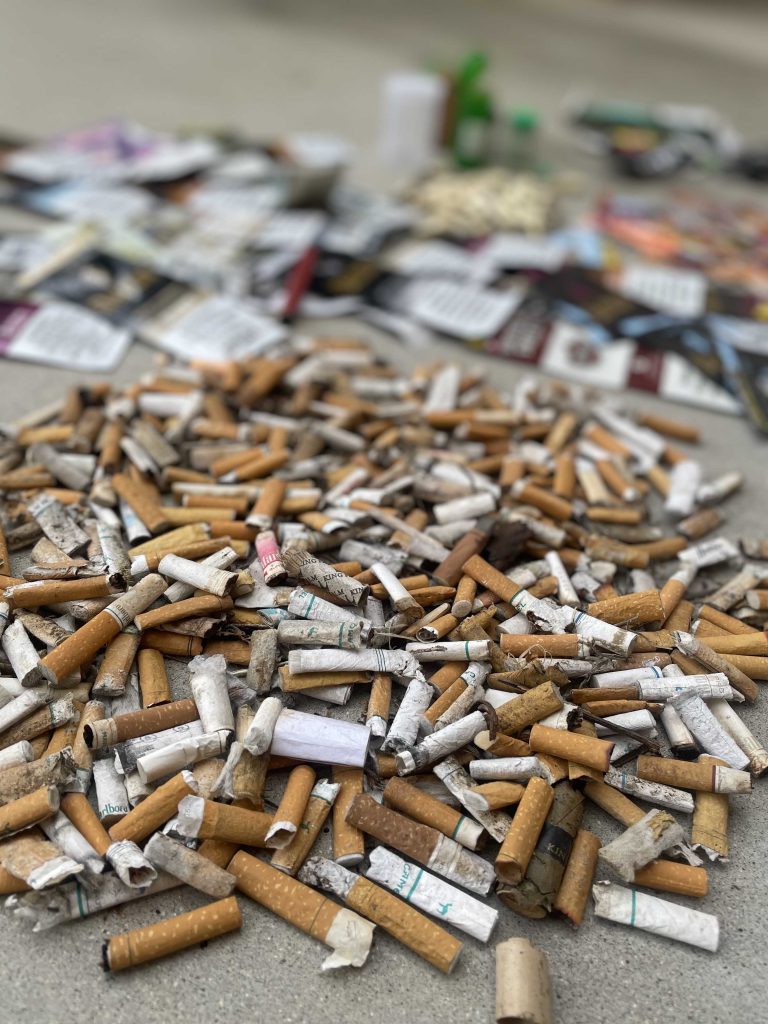 How the Tobacco Product Waste Reduction Project Works:
---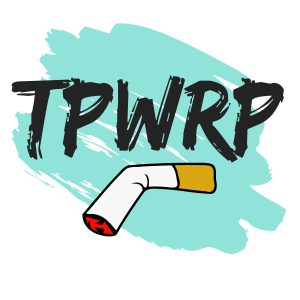 Confirm eight cities for data collection.
Introduce the project to each city's leaders and residents.
Select 120 city blocks for data collection.
Invite volunteers to participate in the project.
Train volunteers and staff in data collection methods.
Conduct data collection events.
Measure all tobacco product waste.
Create neighborhood maps of tobacco product waste.
Identify factors that contribute to distribution of tobacco product waste.
Brainstorm solutions to reduce or eliminate the waste.
The project team wants your help to create solutions to reduce and ultimately eliminate this toxic waste in San Diego communities. Community organizations and concerned individuals are encouraged to volunteer!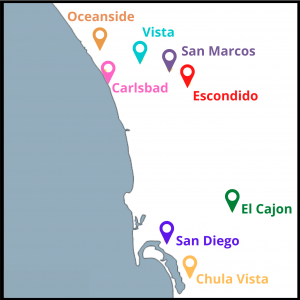 Data collection began in July, 2021 in Carlsbad, Escondido, Oceanside, San Marcos, Vista, San Diego, El Cajon, and Chula Vista. Project staff, assisted by volunteers, identify and collect tobacco product waste, create maps to show how the waste is distributed in the County, and and facilitate community discussions to develop sustainable solutions.
Keep scrolling.
Read our fact sheet to find out more.
---
For additional resources, including our Tobacco Product Waste Identification Guide and Directions for Community Mapping, click the button below.
---
Frequently Asked Questions
SDSUTEMProject@sdsu.edu