NOTE: Due to COVID-19 restrictions, the TEM project is on a pause.
---
Research has shown that tobacco smoke, e-cigarette vapor, and marijuana smoke can travel from one apartment into another and expose residents living there. The Tobacco, E-cigarette, and Marijuana Project investigates how residents of apartment housing are affected by their neighbors' tobacco smoke, electronic cigarette vapor, or marijuana smoke.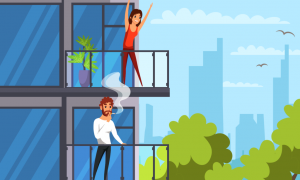 Families who live in apartments or condo complexes can help us learn more about the problems of smoke and vapors from neighbors' tobacco, electronic cigarettes, or marijuana getting in to their homes. The Tobacco, E-Cigarette, and Marijuana Project involves two parts. In the first part of the study, we will collect information from participant and their homes. We interview participants about household habits and exposure to tobacco, electronic cigarettes, and marijuana before collecting samples from participant's homes. In the second part of the study, we discuss the results with small groups of residents and work together to solve the problems caused by smoke and vapors in their apartment buildings.
If you are eligible and participate, you will receive up to $70 in gift cards for your time!
---
For more information or to find out if you are eligible, please call 619-594-3018 or email us here.
Frequently Asked Questions